Using leaves for craft projects is one way to capture the beauty of autumn! I hit Pinterest to find an easy, DIY project to bring fall to my dinner table.
I found a blog tutorial from All Things G&D that uses leaves as stamps to decorate a tablecloth or napkin.
Here's what you need:
Leaves
Napkins
Craft Paint
Paintbrush
Rolling Pin
Paper Towel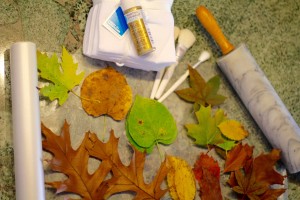 First things first, step outside and pick some leaves! Turn it over so the more veiny side is facing up. Apply paint sparingly and practice on a paper towel or sample fabric. (a little paint goes a long way!)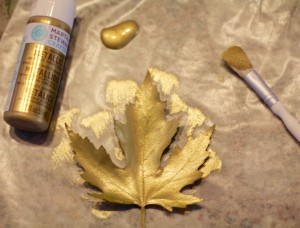 Turn leaf over and carefully position it on your cloth napkin however you'd like it. I bought "flour sack" dish towels at Target… (I like the oversized napkins).  Place a paper towel over the leaf and firmly roll over your leaf with a rolling pin
Lift.. and you're done!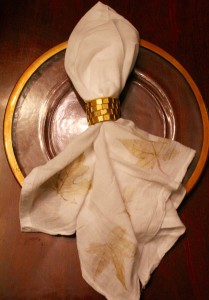 Martha Stewart-like crafts in no time! Let me know how your leaf crafts turn out and read the full tutorial here!