Margaritas are a tasty treat on a hot day, but it's one of the highest-calorie alcoholic beverages you can choose. Laced with sugar and sweet liqueur, just one margarita may contain as many calories as your meal. EEK! I searched Pinterest high and low for refreshing cocktail that won't make your pack on the pounds this summer.
I found eight recipes for skinny cocktails from Shape Magazine… Okay- they look great, but how do they taste? Is it a "Pin It" or Pitch It"? Time to start mixing.
And here are the ingredients for the Skinny Colada all laid out…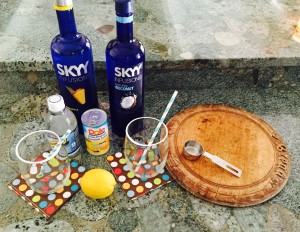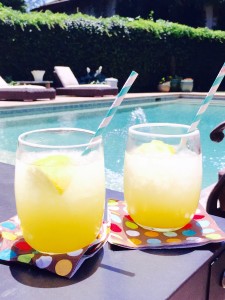 Now, for every party girl's favorite part…. The taste test! Great news! This Skinny Colada is so flavorful… it's fruity and sweet, without being over-powering. Best part? It's only 170 calories! It's a "Pin It"!
Here is my finished product… You could even give this drink a "4th of July" twist by adding raspberries and blueberries! CHEERS!
Click here to see the other 7 cocktails from Shape Magazine. Let me know your favorite!